The latest edition of the Community Connector newsletter is out now!
We have worked with local organisations including Sheffield Olympic Legacy Park, Tinsley Forum and Sheffield East LAC, to put together a winter edition of the Community Connector newsletter. Over 30 local groups and organisations have taken this opportunity to share their news with the community, and we're grateful to all of them for taking the time to send us content and photos to include in the newsletter!
Unfortunately, we weren't successful in obtaining any new funding to produce or deliver the Community Connector this time, so we're extremely grateful to Jump North printers for match funding the small amount we had available. This enabled us to print 2,000 copies in total! Since we weren't able to fund delivery of the newsletters, we're now busy getting copies out to as many different local venues as we can, to make sure all this news, support and information reaches as many local people as possible. Darnall Well Being will also be giving copies to everyone we come into contact with in the community, and copies will be going to all local schools.
Please look out for it in the community – venues it will be available at include:
Darnall Library
Darnall Primary Care Centre
Tinsley Highgate Surgery
Tinsley Forum and Library
EIS and Ice Sheffield
Galeed House
PMC
Darnall Children's Centre
Darnall Road Baptist Church
Church of Christ
Living Waters
Star Works
Darnall Allotment Project
Advanced Wellbeing Research Centre
Local shops and cafes
You can also download the Community Connector here:
Or you can read it on our website here: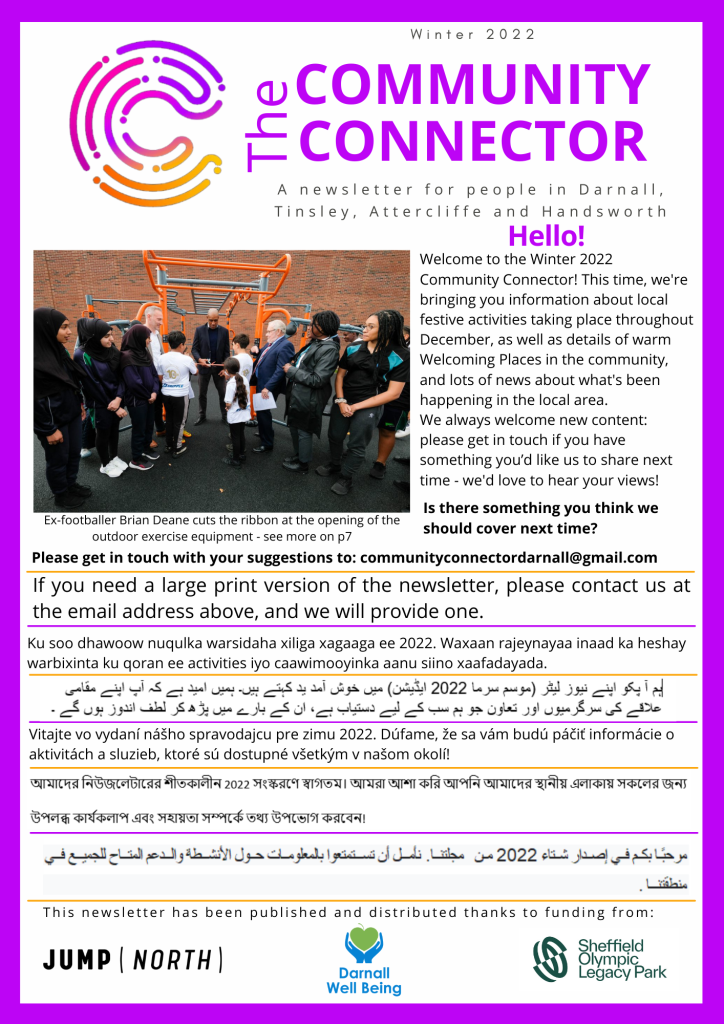 We aim to produce the next edition by the Easter school holidays. If you are a local group or organisation that would like to share news or information in the next edition, please contact us at communityconnectordarnall@gmail.com.