What is Long Covid?
Long Covid is a condition which refers to people who experience symptoms for longer than expected after the initial illness. Most people recover well after 3-10 weeks, but it is believed that one in ten people have experienced symptoms of Long Covid, lasting for months.
Long Covid can affect you in many ways, including extreme tiredness after little activity, fatigue, shortness of breath, muscle weakness, difficulties with concentration or memory, or feeling less able to be physically active. You may find Long Covid has affected your ability to undertake day-to-day tasks, manage at home or work, or continue sports. Some people find their symptoms gradually improve over time, others can experience relapses in their symptoms which can be frustrating and disheartening. Healthwatch Sheffield have put together this flyer to provide more information about Long Covid symptoms and how to manage: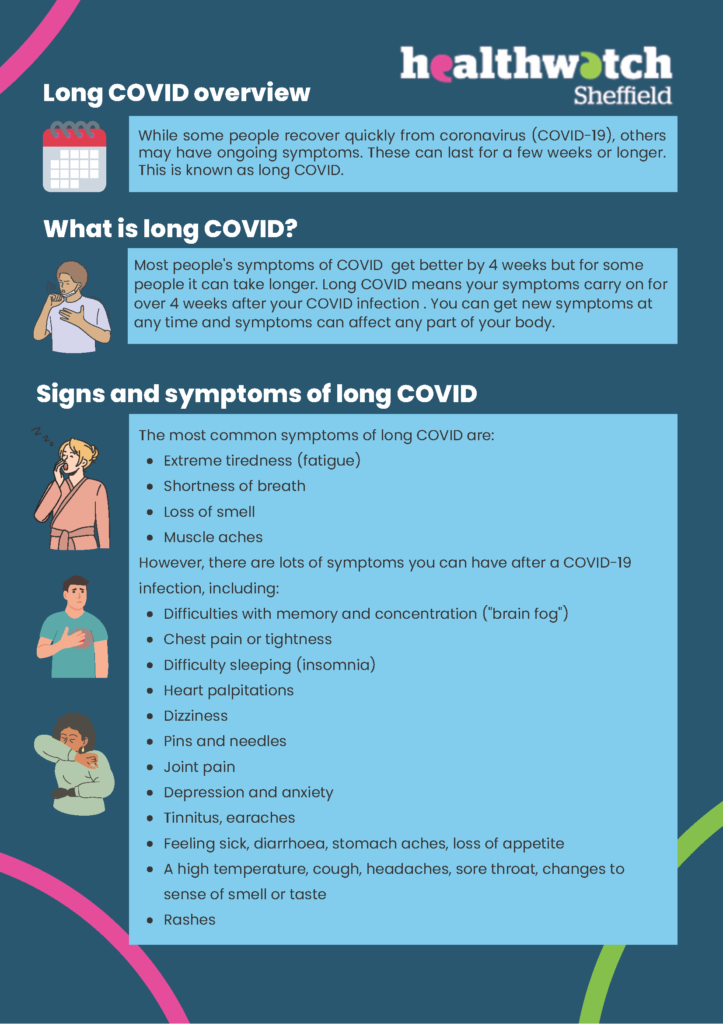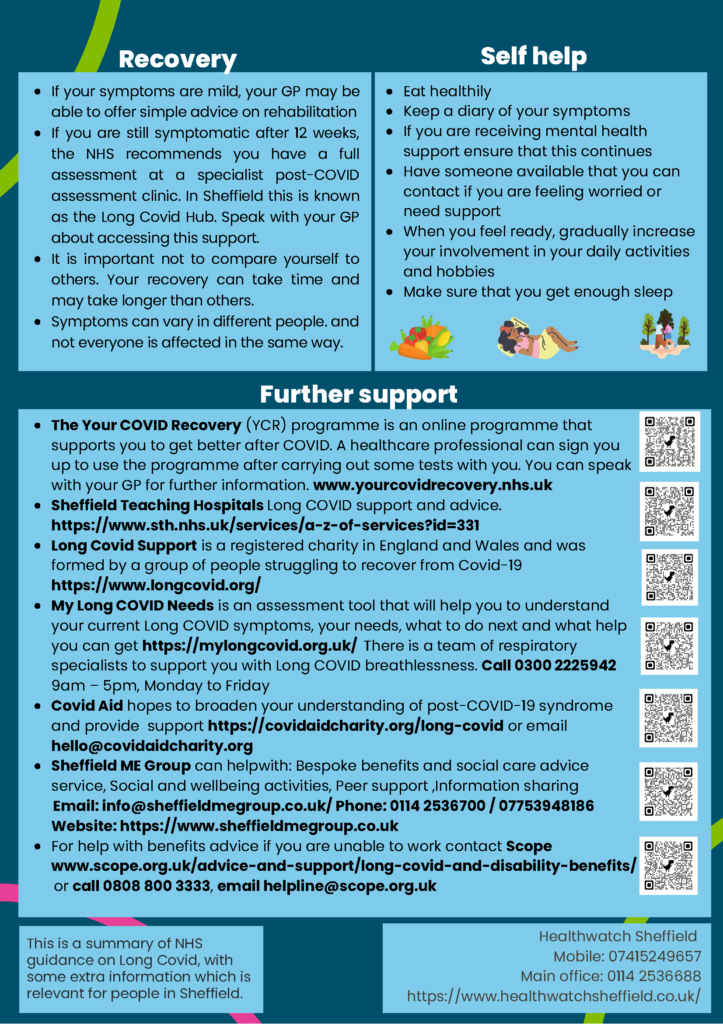 Our Long Covid Support Group
In 2023 we are working with Sheffield Community Contact Tracers, offering a Long Covid support group for people local to Darnall and Tinsley. This group meets monthly, and is a chance to share your experiences of living with Long Covid. We'll talk about what helps, what doesn't, and help you to access more support if you need it. We will also have guests along to sessions to help with the needs that the group identifies.
We have already been joined by Nick Pearson from SOHAS, who came to talk about employment support when you have Long Covid. Future speakers include Kate Kontou from Sheffield's Long Covid Rehabilitation Hub. Please contact us to book your place, if you'd like to come along to our group!
The group gives me time to think about myself in the company of others who are in a similar situation, and I've realised that I'm not the only one suffering.

Long Covid support group attendee
Self Care and Long Covid
There are helpful resources on how to manage your recovery from these websites:
https://www.yourcovidrecovery.nhs.uk/
https://sheffieldhospitalscoronavirus.co.uk/patient-support.html
Long Covid Support website, including videos from AWRC.
Long Covid Support in Sheffield
The Sheffield Post Covid Rehab Hub covers all of Sheffield. Patients have to be over 18, have a GP surgery and be experiencing symptoms 12 weeks + post Covid. You need to be referred to the Rehab Hub; all GP surgeries have the referral form and information to do this. There is more information about the Rehab Hub here: https://sheffieldhospitalscoronavirus.co.uk/patient-support.html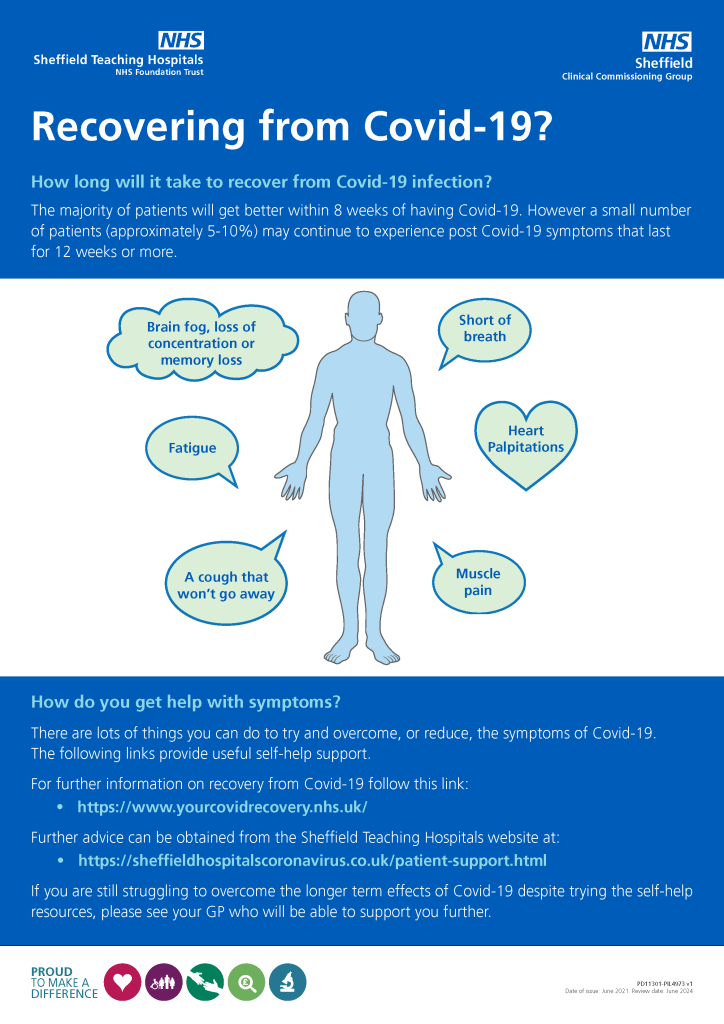 What We Know About Long Covid Recovery
We are not yet sure why some people experience Long Covid and others do not; it can affect previously highly fit people as well as those with lower fitness and other conditions.
Did you know that DWB worked with our partners at the Advanced Wellbeing Research Centre on an innovative project to learn more about Long Covid?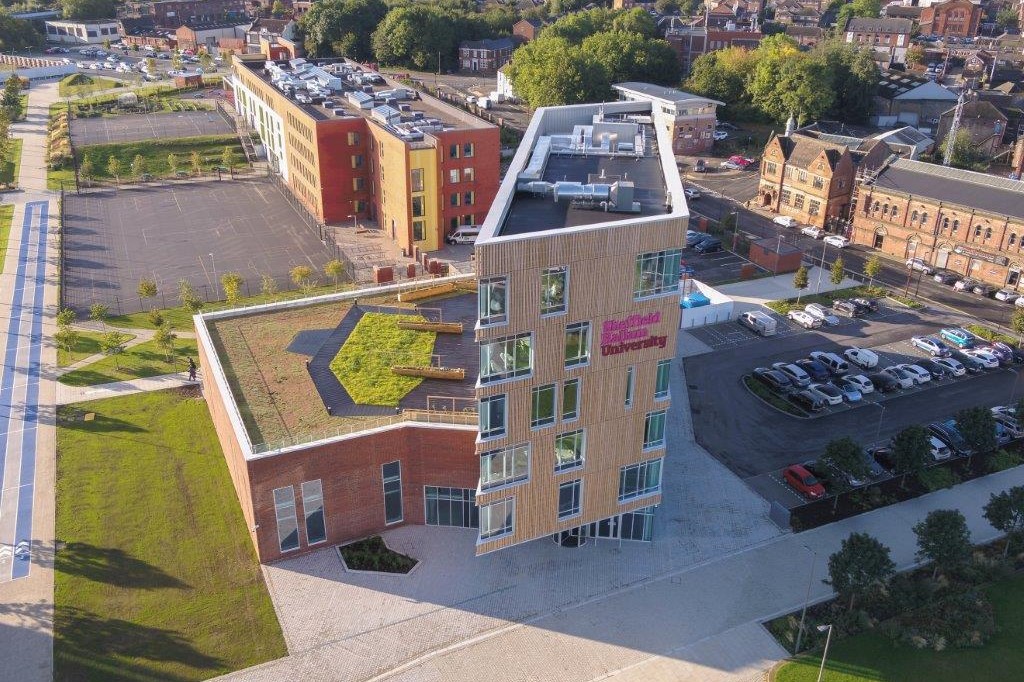 We are learning about how to support people with Long Covid from early research and from the best practices for other fatigue conditions and post-viral syndromes.
The Long Covid Virtual Clinic with AWRC
To help improve understanding about the ways that people recover from and manage Long Covid, we worked with AWRC in running a Virtual Clinic for local people who were living with Long Covid. The virtual clinic enabled people to meet a group of specialists in medicine, sport medicine and rehabilitation, who offered an on-line consultation to understand patient needs, and then helped to support recovery.
The Long Covid team have knowledge about helping people recover from Long Covid and other long-term illnesses that cause fatigue. Using their awareness associated with sport and exercise medicine, a multidisciplinary team helped local people with Long Covid to make the first steps towards recovery. They did this by finding approaches that were acceptable to each individual, meeting individual needs.