Darnall Well Being offices are located within Darnall Primary Care Centre. Our address is 290 Main Road, Sheffield, S9 4QH* – see map: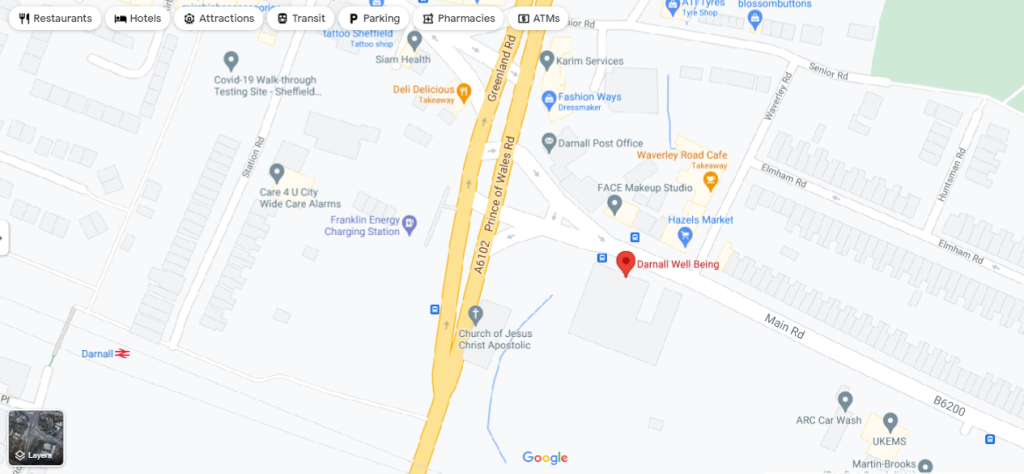 The link to our location on Google Maps is here: https://goo.gl/maps/QnrFW3jgyM4e1MCf7
*Please note if using a sat nav the postcode S9 4QH does not bring you exactly to our building, so please use in conjunction with the map.
Parking is situated on site at the side of the building; this parking is also used for patients and staff. If the car park is full there are side streets across from the building which can be used. Please be aware though as there may be parking regulations in force i.e. length of stay.
If you are travelling by bus, there is a bus stop straight across and directly outside the building. There are three bus routes that travel near to the building: the 52 (stops outside the building), the 17, and the 6A.
Once you have found the building and have made your way into the reception area, you need to inform us of your arrival. Please do not do this via the reception desk, but by phoning us on 0114 249 6315.
Opening Hours
Monday 9.00 – 4.00
Tuesday 9.00 – 4.00
Wednesday 9.00 – 4.00
Thursday 9.00 – 4.00
Friday 9.00 – 3.00
Telephone: 0114 249 6315