14th November 2020 is World Diabetes Day, so we want to share with you some of the Diabetes support that we have continued to provide throughout Covid-19.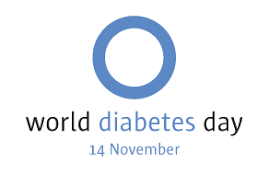 In March 2020, we had to stop our Diabetes group meetings, along with all of our other face to face activities. However, our Health and Wellbeing Workers have remained in regular contact with the Diabetes group ever since, to make sure they were coping well and managing Diabetes with all the additional stress around them during Covid-19.
Our service has also remained open for those who need it most, so we have continued to receive new referrals from different sources (both medical and social), requesting support to help people to manage Diabetes.
Our Health and Wellbeing Workers support people with Diabetes in a variety of ways, according to each individual's needs and abilities. Some people need information on how to manage or prevent Diabetes, so we are able to provide them up to date information and uesful links. Others need more than just information, so where possible, we've been providing online one to one support via WhatsApp or Zoom. At these sessions, we've been able to share our resources and information, and support clients in setting realistic and achievable goals for Diabetes self-management
We've had some lovely feedback from some of the people we've supported during this time:
Really great job you are doing, we feel supported and get help when we need.
Thank you , I feel prevention is what I can do for myself from Diabetes , I will keep in touch if I need more information our struggling.

Client who we recently helped with Volunteer language support via WhatsApp)
When the Practice nurse referred me to you to lose weight and manage Diabetes, I thought how will it work in this critical time and lockdown? But DWB found the best way to support me. I appreciate the help and support I get – thank you.

Mrs W;
Some useful information and links to Diabetes UK Sheffield are attached below for you to use: