Throughout Covid-19, we have put together and sent out activity packs to all our service users and volunteers. This July, we sent out the final one.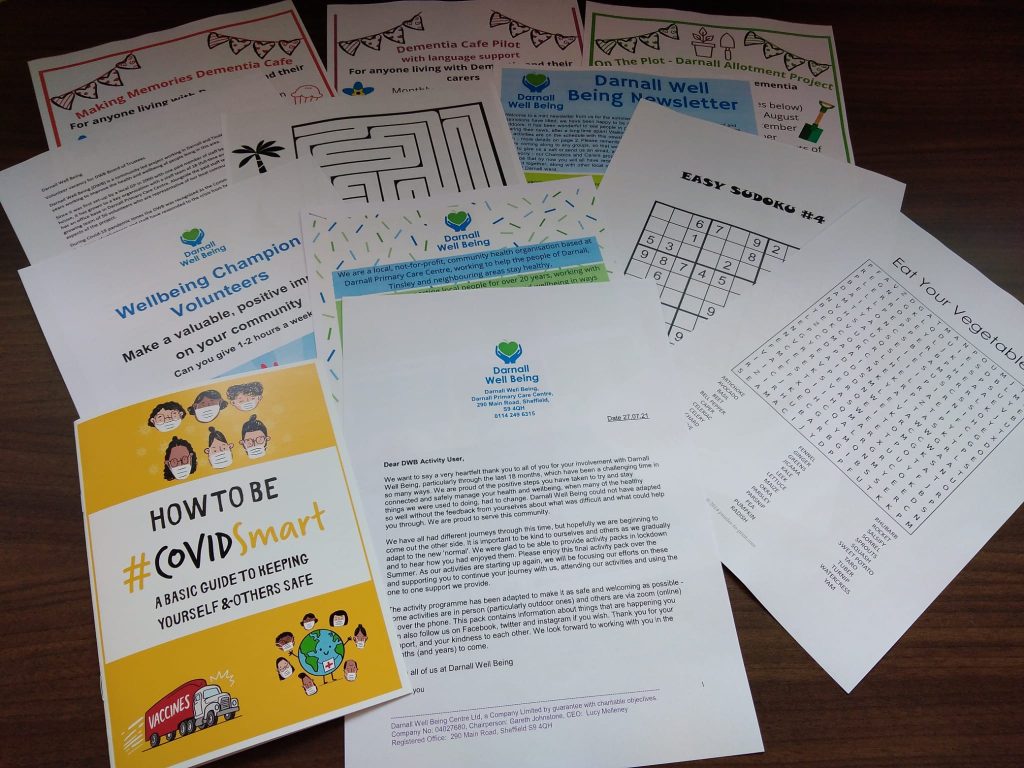 Together with our activity schedule and latest newsletter, we also sent activities to do at home, information about getting your Covid vaccine and staying Covid safe as restrictions lift. Included was a letter looking back over the time that we have been sending these packs. The text of that letter is below:
We want to say a very heartfelt thank you to all of you for your involvement with Darnall Well Being, particularly through the last 18 months, which have been a challenging time in so many ways. We are proud of the positive steps you have taken to try and stay connected and safely manage your health and wellbeing, when many of the healthy things we were used to doing, had to change. Darnall Well Being could not have adapted so well without the feedback from yourselves about what was difficult and what could help you through. We are proud to serve this community.
We have all had different journeys through this time, but hopefully we are beginning to come out the other side. It is important to be kind to ourselves and others as we gradually adapt to the new 'normal'. We were glad to be able to provide activity packs in lockdown and to hear how you had enjoyed them. Please enjoy this final activity pack over the Summer. As our activities are starting up again, we will be focusing our efforts on these and supporting you to continue your journey with us, attending our activities and using the one to one support we provide.
The activity programme has been adapted to make it as safe and welcoming as possible – some activities are in person (particularly outdoor ones) and others are via Zoom (online) or over the phone. Thank you for your support, and your kindness to each other. We look forward to working with you in the months (and years) to come.
If you would like to download the activities from this or any of our previous activity packs, you can find them all on our Activity Packs page.