DWB were happy to support Healthy Holidays again in Christmas 2020, thanks to funding from People Keeping Well.
We worked in partnership with five local schools – Tinsley Meadows, High Hazels Academy, Phillimore, Acres Hill and Oasis Academy Don Valley to identify families to receive the food hampers and activity packs. Forty two families were identified by schools, with a further eighteen by DWB. These hampers will reach a total of one hundred and seventy-six children this Christmas.
The hampers contained the ingredients for four meals, along with recipes to cook simple, healthy family meals: omelette, pasta and tuna, vegetable curry and jacket potato. The activity packs included board games and Christmas themed colouring sheets and puzzles.
The Community Champions at Morrisons Catcliffe were very supportive and generous in helping us get the contents of the hampers together. The hampers were then packed by some of our staff and volunteers over the weekend of 12th and 13th December. A huge thank you to everyone who helped us do this, including Graham from Tinsley Forum and Kinder from Attercliffe & Darnall Centre of Mission, who helped deliver the hampers to the five schools!
They came and are lovely. Our families were very grateful. Thank you to you and all the staff who made this possible.

Alison Blakemore, Deputy Head, Phillimore Community Primary School
The schools distributed the hampers directly to families at each school, and DWB staff distributed to other families we identified who would really benefit from receiving one. We were happy to be sent a photo of the first meal cooked by one Tinsley family almost as soon as they received their hamper!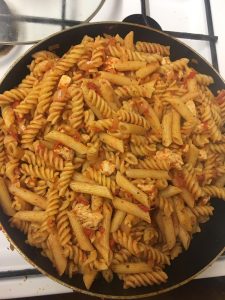 Just wanted to say thank you for the food parcels – our families were thrilled. The parcels will be a big help to families over the Christmas break.

Shanaz Begum, Pastoral Officer, High Hazels Academy
We will be back delivering Healthy Holidays in the February half-term, when we hope to also be delivering some face to face activities. Watch this space!