Two updates about our Dementia support
Twiddlemuff Donation
On Saturday 22nd May 2021 Jo-Anne van Levesley, one of our Senior Health and Wellbeing Workers, visited Lilian Beasley to do a doorstep collection  – outside, distanced, and Covid safe!
After knocking on the door, and retiring to the gate, Jo was greeted with a fabulous donation of fifteen knitted, embroidered and decorated Twiddlemuffs. Each one is unique, and tenderly prepared as a gift and donation to support clients and carers with Dementia. These will be used in our sessions, Cafes and allotment work, as we are preparing to reopen and venture out to meet face to face, once Lockdown is lifted.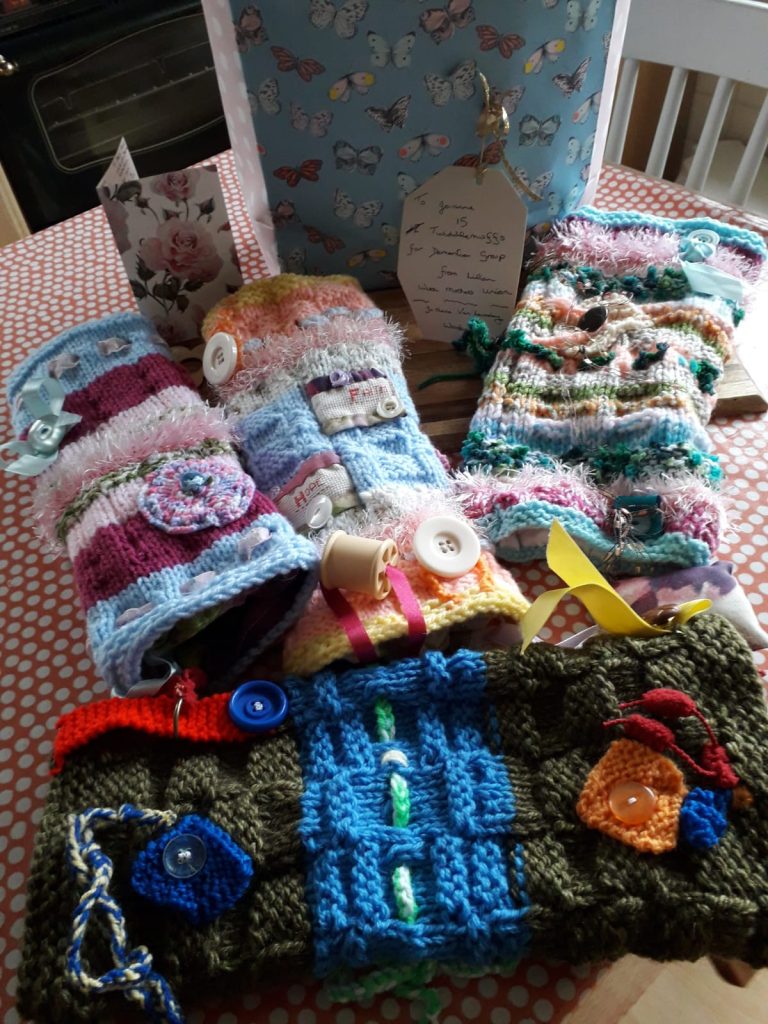 Thanks abound to Lilian Beasley, from a branch of Sheffield MU – who has worked so hard creating these for us.
They have been a real help and a project that has been ongoing for me through times of isolating, and not being able to get out and about in the time of lockdown. I have missed my groups and church, and am looking forward to getting out and connecting with family and friends again very soon

Lillian Beasley, on making the Twiddlemuffs
New Dementia Activity Packs
Jo has been busy putting together yet another amazing activity pack for our Dementia clients and their carers. These will be delivered through their doors, giving them plenty to keep them busy and amused whilst at home.