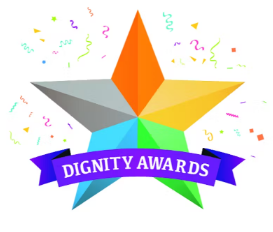 Our team nominated Jo-Anne van Levesley for Sheffield City Council's Dignity Awards, for people working in adult health and social care, and we're so pleased to say that she was announced at the awards event on 10th July 2023 as the winner in the category "Connected and Engaged – Everyone can connect with communities that care and support them".
The Dignity Awards celebrate outstanding examples of best practice in adult social care and support in Sheffield, and we really felt that Jo was a worthy candidate! Our nomination is below, and the judges said it really illustrated that Jo puts clients at the centre of her practice. They were particularly impressed that Jo helps her clients in non-judgemental ways, giving them happy memories and fun things to do.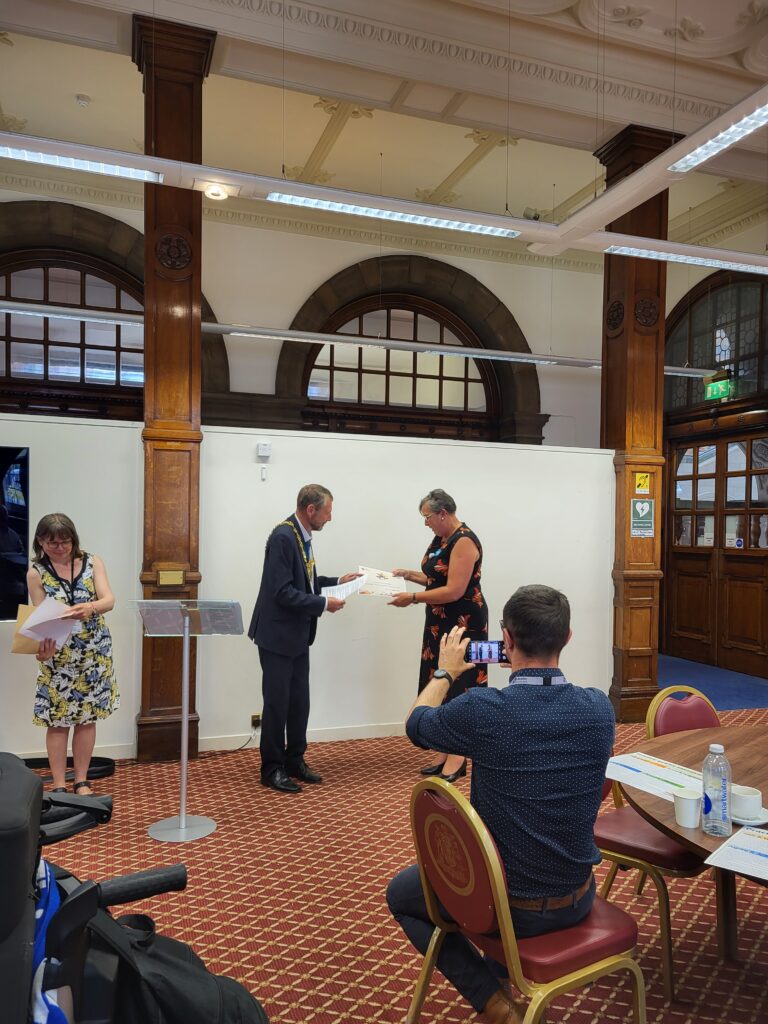 The awards ceremony was a lovely event, celebrating real embodiments of dedication and care across the city. Jo was presented with her award by the Lord Mayor of Sheffield, Cllr Colin Ross.
Jo's nomination in full:
Jo is responsible for delivering Darnall Well Being's support for people living with Dementia and their carers in Darnall ward. She runs Dementia Cafe in Handsworth with volunteers. Aware of the need to break down stigmas around Dementia in the BAME community, she also started Dementia Café in Darnall, with language support. She runs an online carers' support group and a weekly session at Darnall Allotment Project for people with Dementia and carers, too.
Jo is dedicated to her work, treating referrals as she would want her own family to be treated, ensuring they feel comfortable and welcome. In January to March 2023 alone, Jo made 32 wellbeing calls, saw 48 people in person, and made 98 calls to 20 new clients. Feedback for her support on these calls – "The way you work is very professional and caring – sensitivity in a situation like this makes all the difference". LO (carer)
Jo regularly seeks feedback from attendees and volunteers about what people find helpful and how sessions can be improved. The impact is clear from the high regular attendance at all sessions. "Jo has the unique ability to encourage, entertain and motivate people to take part in activities, whilst remaining professional, allowing her to be a trusted source of knowledge and support, and a source of fun and freedom," Sarah, student attendee.
Participants are full of praise for Jo's groups:
"like one big happy family" JR (volunteer at Dementia Café/allotment)
"best thing we've ever done – so pleased I've brought him here" (B and D, Dementia Café attendees)
"You are the only place that treat us all properly, nan and the family … so very impressed with the care, dedication, and sheer life you breathe into clients and carers." JK (carer)
"This provision is good for Dad – I feel supported too, right from the first phone call… You even had thought about our fast – thank you" R (Carer)
Jo has spotted opportunities to link external projects with her groups, e.g. Sheffield University's Hack The Hug project and Out Of The Box storytelling. She also encourages participants to take part in our other activities, and arranged for Dementia contacts to attend the World Seniors Snooker Tour in Sheffield, as well as organising an annual seaside trip for service users and carers.
She is recognised by others as being a key contact in the city. She is an Alzheimers Society Dementia Friends Ambassador, and provides Dementia Friends training for our team and partner organisations.
To increase awareness of available support, Jo helped to create videos with herself and café attendees, in English and Arabic, sharing what people can expect from Dementia cafe and encourage them to come and seek support – from local sessions and from city-wide services. Jo is open and approachable, with a passion for involvement and inclusivity. "She places the people she supports at the centre of everything she does. Her enthusiasm and genuine care for those within the group is the backbone to its success," Natalie, OT student