Quotes from a number of our volunteers about their experiences with us.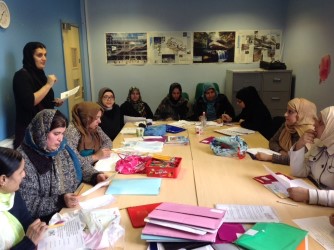 Volunteering for Darnall Wellbeing has been such a great experience for me, I look forward to it every week, and love meeting and supporting lots of new and different people. It has made a big change to my life, and I have learnt so many things and enjoy being part of such an amazing group of people. I feel more confident and happy, and want to start a career. I will now be going on to support the children's play scheme in the summer holidays, and supporting a new client suffering with anxiety getting to activities.
I have been involved for around four years now. I wanted to volunteer because I could see that there was a community need and I had a bit of time now that my family are all grown up. Diabetes is an interest for me because my dad was a diabetic and people don't understand about the importance of diet. I wanted to help my community.
DWB has helped me to come out of the dark place I was in after losing my husband which was the biggest shock of my life. The support and activities of DWB helped me to think positively about myself and my community and to give something back to the community as a volunteer while enjoying my new role as Practice Champion and the new friendships. Practice champion volunteering and DWB activities have actually filled in the gaps and I have now a busy week to look forward to in which I attend the walk, craft group and enquiry desk. I am now going out more, socialising more; I am more active and feel better in myself. It gives me a reason to get out of bed and mingling with people of other ethnic groups is a new and positive experience.
The major difference in my view was the activities and services offered at this surgery by DWB, my previous surgery had nothing like this to offer thus I have never been motivated to do any thing like this. The Health Trainer was friendly and supportive and encouraged me to try the activities and then I chose what I wanted to go ahead with, the friendliness of staff and the participants of the groups really made me welcome and I decided to come back and carry on enjoying. The groups and activities of DWB are now an essential part of my week and I have made some friends as well. It is like "someone to speak to with confidence about myself and any issues bothering me to get impartial advice without fear of family connection or knowing."
I feel good, positive, energetic, useful, empowered and resourceful as a Practice Champion.
I don't usually feel good about myself but Practice Champion work gives me a sense of achievement every week. It is like another string to my bow.
I feel a lot happier since I started as a Practice Champion and I look forward to go on a Friday to run the enquiry desk, it is a blanket under which I can hide my stress and problems for a few hours and help others while enjoying myself. I have different topics to talk about, learn, listen and enjoy as a Practice Champion.
New friends are a bonus while being a Practice Champion!